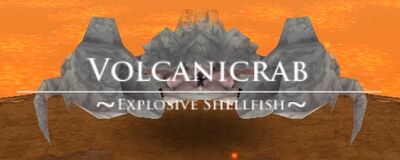 Volcanicrab is a boss in Recettear. He can perform powerful attacks with his claws, blow bubbles in a frontal cone or erupt (which causes patches of fire around him temporarily). Initially he is almost impossible to damage, however during the fight bombs spawn. Destroying a bomb and causing it to explode near him will flip him onto his back, at which point he becomes vulnerable and can be damaged. In later dungeons a black, stronger version of Volcanicrab is fought.
Counterintuitively, once this monster is flipped, you perform a Back Attack by hitting it in its face.
Strategy
Avoid being too close to the volcanicrab's front area as its claws can deal a lot of damage.  Wait for a bomb to appear and kill it.  Afterwawrd, hit the bomb seed towards the Volcanicrab.  If you manage to hit the bomb directly at the body of the crab, it will immediately explode.  Even if it explodes on timer near the crab, the crab will be flipped over as well.  Do not hit the bomb towards the crab if it is too close or you will get hit by the bomb's explosion as well.  It is imperative that you kill the bomb regardless if you are able to hit the crab safely with it or not as it may start adding problems with its fire rings.  Note that the large claw may block projectiles preventing you from hitting the bomb from afar.